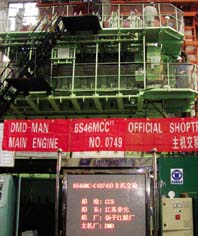 Recently, the first 6S46MC-C host of Dalian Marine Diesel Engine Co., Ltd. was successfully submitted for inspection. The main bore 460 mm, 8280 kilowatts of rated power, rated speed of 129 rev / min, naturalization CCS classification societies, will be installed to Jiangsu Yangzijiang Shipbuilding Group 47,500 tons bulk carrier built by Jiangsu Huayuan Logistics Co., Ltd.
The 6S46MC-C
mainframe is the smallest cylinder head currently produced by Dalian Shipai. Due to its small size and easy to be arranged in the cabin, it can be widely used on
bulk carriers of
45,000~49500
tons.
The successful construction of the mainframe is also the first cooperation between Dalian Shipai and Jiangsu Yangzijiang Shipbuilding Group.
 
In order to further develop the market, Dalian Shipai broke
the tradition of
only
500mm with the
smallest bore
and actively developed the
new
6S46MC-C
model, striving to win the long-term cooperation opportunities with better service, more reliable performance and better quality. . The company has started a lot of meticulous work from the aspects of technical preparation, process measures, process control, and supporting organization. All the links in the construction process are closely coordinated, and the problems encountered will be solved one by one. During the commissioning phase, the relevant engineering and technical personnel continued to operate, and the commissioning of the host was completed in only two days, ensuring the smooth operation of the host. Both the shipyard and the shipowner's representatives were very satisfied with the quality of the mainframe.
The successful construction of the
6S46MC-C
machine has accumulated valuable experience for the subsequent production of the same type of mainframe. Its excellent host performance has further won the trust of the shipyard and the shipowner, laying a solid foundation for Dalian Shipai to expand the market share of the mainframe.
Fiberglass Grinding Force Control System
Fiberglass is a kind of material that we do not use or see often in daily life. But it is very common in industrial producing. considering its high requirements for its surface effect, and human labor is hard to realize the requirements and also it is not safe for human labor to do this job. So it only can ask help for industrial automation. Our Force Control System not only can do the job, but can ensure the surface effect to meet customer's requirement. We have done the tests for customer, and customer feels very satisfied with our result, that's why we are very confident in our product and that our product will help you reduce labor cost and improve producing efficiency alot.
fiberglass grinding force control system, fiberglass polishing force control system, fiberglass deburring force control system
DARU Technology (Suzhou) Co., Ltd. , https://www.szactivecontactflange.com