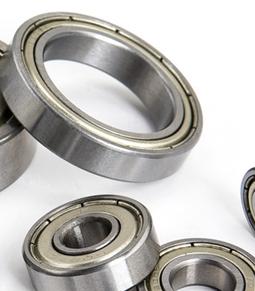 Since the modern industrial revolution, bearing has become a pivotal component in mechanical components. China is one of the countries in the world that earlier invented rolling bearings. In our ancient books, the structure of axle bearings has been documented for a long time. Bearings are important basic components for all types of machinery and equipment. Its accuracy, performance, life, and reliability play a decisive role in the accuracy, performance, life, and reliability of the host. In mechanical products, bearings are high-precision products that not only require the comprehensive support of mathematics, physics, and many other subject theories, but also need materials science, heat treatment technology, precision machining and measurement technology, numerical control technology and effective numerical methods and powerful computers. Many disciplines such as technology serve it, so the bearing is also a product that represents the country's scientific and technological strength.

After the founding of New China, under the strong promotion of reform and opening up, China's bearing industry has entered a new period of high quality and rapid development, has achieved a development strategy from small to large, from weak to strong, forming a basically rational layout, large The relatively complete industrial system where SMEs coexist and product categories are relatively complete. At present, as the country attaches great importance to the equipment manufacturing industry and the trend of bearing domestication is increasingly obvious, China's bearing market will usher in a broader space for development.

The rapid development of the bearing casting industry in China has a more positive effect on the stability of the bearing steel market. At present, the demand for high-end bearings is now increasing significantly, such as ball screw support precision angular contact ball bearings, aerospace bearings, precision bearings for the photovoltaic industry machine tools, high-speed spindle bearings, turntable bearings, wind power bearings, rolling mill bearings, high-speed steel bearings , automotive bearings, pulley bearings for cranes, turbocharger bearings, hydrodynamic bearings, etc.

After more than 50 years of construction and development, China's bearing industry has achieved a small to large, weak and strong development strategy, forming a relatively complete industrial system with basically reasonable production layout, coexistence of large and small enterprises, and relatively complete product categories. And it has a large production capacity and strong technical strength. At present, China's bearing industry already has a relatively large economic scale. There are more than 1,400 bearing enterprises in the country and about 300,000 employees. In 2011, China's bearing manufacturing industry achieved a total industrial output value of 193.211 billion yuan, an increase of 27.59% year-on-year; sales revenue was 1.9107 billion yuan, an increase of 30.30% year-on-year; total profit was 12.523 billion yuan, an increase of 26.54% year-on-year.

At present, the basic mechanical casting industry, such as precision bearings, has become a key industry in the national "Twelfth Five-Year Plan" period, and strives to achieve or approach the international advanced level. It is expected that with the support of the policy, by 2015, the sales volume of the high-end bearing foundry industry will reach 222 billion yuan. China's bearing output is expected to exceed 22 billion units, and the total sales volume is expected to exceed RMB350 billion, making it the world's largest bearing production and sales base.

Steel Body Autoparts Used For HONDA:
Yangzhou Gemini Vehicle Industry Co., Ltd. has more than 20 years experiences in producing and selling metal body parts of various vehicles. We are specialized manufacturer of auto metal body parts used for HONDA, including CITY, CIVIC, ACCORD, FIT, CRIDER, JADE, CROSSTOUR, VEZEL-HRV, X-RV, CRV, ODYSSEY, and SPIROIR. The products cover hoods, fenders, doors, rear fenders, tail gates or trunk lids, and so on other metal autoparts. We provide "Professional Efficient Effective" service to all of our domestic and oversea customers. We are very glad to be contacted by you and hope that we can keep a long-term cooperation on the business of Steel Body Autoparts.
Steel Body Autoparts Used For HONDA
HONDA Steel Body Auto Parts,HONDA Auto Body Parts,HONDA Auto Body Repair Panels,Automotive Sheet Metal Repair
Yangzhou Gemini Vehicle Industrial Co., Ltd , http://www.yzqsap.com