With the rapid growth of the school bus market, professional light school buses are receiving more and more attention. At the 2013 Shanghai Auto Show, Jianghuai Xingrui officially released a new standard school bus, and completed the delivery of the first hundred large singles in the domestic professional light school bus market. A new wave of professional light school buses has been set off. It can be foreseen that as the market's demand for and awareness of school bus products becomes more rational, the professional light school bus market will usher in a rapid rise. Among them, Jianghuai Xingrui, whether it is product reputation or market performance in the domestic light school bus market is second to none, and its market leader status has begun to show.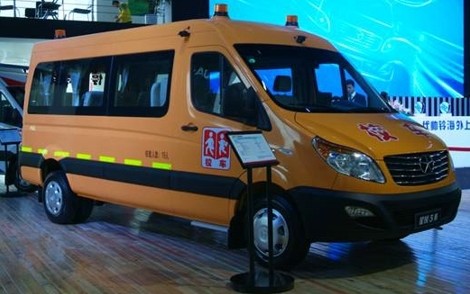 5 Series New Standard School Bus Officially Released

The new 5-series new standard school bus is the highlight of this auto show by Jianghuai Xingrui. It is reported that this school bus has undergone further refinement on the basis of the original professional school bus, achieving perfect upgrade in terms of safety and humanity. The new school bus has done a great deal of optimization work on the overall layout of the car body and the power system. A total of 29 newly-developed special-purpose pieces have been added, and the deployment of safety systems such as automatic fire suppression systems for the engine room, emergency systems, and vehicle lighting systems has been increased.
It can be seen from the appearance that the JAC Xing Rui 5 Series new standard school bus body adopts the European family short head wide body design, the collapsed design front, and the high rigidity structural body with distinct family characteristics, clearly reflecting the children's bringing Solid professional protection features. On the other hand, the school bus is equipped with child seats and seat belts specially designed according to ergonomics. The front door is equipped with an automatic anti-slip pedal. The pedal width, effective depth and pedal height are in line with national requirements. It also includes a series of safety management configurations such as GPS positioning function, engine forced-extinguishing device, medical box, first aid cabinet, tire pressure monitor, horizontal control arm, escape window, and forced ventilation device, all of which reflect that "safety is the school bus first. The concept of "a righteousness".
The first large-scale single-spot delivery of professional light school buses

What is most noteworthy is that JAC Xingrui's new standard 5 Series school buses are highly regarded by the market, and once they are listed, they receive hundreds of large orders. From the on-site delivery ceremony, it was learned that Hunan Huaxiang School Bus Operation Company and Jianghuai Xingrui entered a 100-school school bus order for the new standard 5-series school bus, which will be used by students in kindergartens and primary schools in Liuyang to pick up and drop off. The delivery of this order has greatly refreshed the order size of China's light school bus market. With this one-hundred-thousand Taiwan orders, Jianghuai Xingrui takes the lead in China's professional light school bus market, and its market leader status is unmatched.
In this regard, Qin Xujun, deputy general manager of Jianghuai Automotive Multifunctional Commercial Vehicle Marketing Co., Ltd., said that professional light school buses have been recognized by more and more people in the domestic market. Compared with large and medium-sized school buses, the body of the lightweight school buses is small and flexible and can handle various road conditions. Whether it's a narrow road in a city with densely populated campuses or a more complex road condition in remote areas, the adaptability of light school buses is very strong. At the same time, the selection of drivers for light school buses is even more abundant. Promoting popularization in all regions of the country has very good congenital conditions and market potential.
Jianghuai Xingrui leads the market

In fact, it is no accident that Jianghuai Xingrui took the lead in obtaining the first major professional school bus. As early as last year's Beijing Bus Show, Jianghuai Xingru School Bus won the "Best School Bus Award" of the year and became the only product that won this honor. In the domestic market, Jianghuai Xingrui School Bus has now served Guangdong, Anhui, Xinjiang, Shaanxi, Heilongjiang and other provinces and cities. Not only that, Jianghuai Xingrui's new standard school bus also went abroad at the beginning of this year, and won the endorsement and recognition from the terminal consumers at the Chile School Bus Exhibition. Accumulation of professional word of mouth, as well as good performance of domestic and international market performance, have laid a solid foundation for Jianghuai Xingrui to be able to win professional school bus operating companies.
To this Qin Jun said that for students to build the most secure and reliable professional school bus, to promote the popularization of professional school bus development in China is unremitting efforts Jianghuai Xingrui goal. The spring of China's professional light school bus market is coming soon. Jianghuai Xingrui has already gotten ready to go. He hopes that he will become the leader of China's light professional school bus market in the future.
Bolts and Nuts,Carriage Bolts,Alloy Steel Bolt
Forged Flange,Gate Valve,Pipe Fittings,Marin Valve Co., Ltd. , http://www.gzpipefitting.com