In 2017, we can see that LED companies are striving to sprint IPOs; they can also see the expansion of enterprises and so on. As a simple and fast development path, M&A is favored by many LED companies with strong capital. Through mergers and acquisitions, we will speed up the layout of LED industry chain, and become stronger and bigger, so as to go abroad and go global! From the third quarter 2017 performance report of LED listed companies, the performance of many LED companies has risen steadily. Although the overall recovery of the LED market is a key factor in the rise of corporate performance, we should also see the efforts behind the company's sleek transcripts. In 2017, we can see that LED companies are striving to sprint IPOs; they can also see the expansion of enterprises and so on. As a simple and fast development path, M&A is favored by many LED companies with strong capital. Through mergers and acquisitions, accelerate the layout of the LED industry chain, become stronger and bigger, to go abroad and go global! The top ten companies with the most M&A characteristics in the LED industry in 2017 Since 2017, the LED industry has undergone mergers and acquisitions. According to incomplete statistics, there have been more than 30 cases of integrated mergers and acquisitions around the LED field. M&A cases continue to be staged and the forms of mergers and acquisitions are diversified. In addition to the integration of mergers and acquisitions in the upstream and downstream of the LED industry chain, it has continuously extended its reach to other fields such as education, media, and the Internet. Today, OFweek Semiconductor Lighting Network Xiaobian conducts an inventory of the M&A events in the LED industry in 2017, and selects the ten companies with the most M&A characteristics for your reference. I hope that many LED companies can find their own from these mergers and acquisitions. The road to development. Osram's three major strategies On October 17, Osram strategically acquired a portion of the Swiss Beaconsmind AG through its venture capital unit Fluxunit. Beaconsmind is a start-up that provides intelligent software to retailers. Fluxunit is committed to supporting and fostering start-up activities inside and outside OSRAM. On August 24, OSRAM announced its agreement to acquire Digital Lumens, a leading US software platform provider. In July, Osram announced LeddarTech, a Canadian laser radar company that strategically acquired a 25.1% stake. In June, OSRAM announced the acquisition of US LED supplier LED Engin Inc. On May 12, OSRAM acquired a portion of the startup agrrilution through its venture capital unit Fluxunit. The start-up company develops smart indoor planting boxes that can be used as family salads, vegetables and herbal plantations. On February 6, OSRAM acquired Maneri-Agraz, a lighting service provider based in Houston, Texas, which provides energy-efficient lighting solutions for commercial and industrial facilities with annual revenues of tens of millions of dollars. Comments: As a long-established old brand enterprise, OSRAM has accelerated the layout of LED industry chain through frequent mergers and acquisitions this year. From automotive lighting, specialty lighting, plant lighting, interior lighting, software and electronics to system solutions, OSRAM has expanded into all areas of its original components and modules. After parting with Landvence, OSRAM has concentrated more energy on high-tech fields and positioned the company's future development with three major strategies: special lighting, lighting and solutions business, and LED semiconductor components. Zhouming Technology's horizontal expansion In 2017, Zhou Ming Technology frequently issued M&A announcements, which became a hot topic in the LED industry. On November 3, Zhouming Technology planned to acquire a 100% stake in Shandong Qinghua Kangli City Lighting Research and Design Institute Co., Ltd. with a cash of 253 million yuan. The counterparty promised that the net profit from 2018 to 2020 should not be less than 41 million yuan, 51 million yuan and 60 million yuan respectively. On October 30, Chau Ming Technology intends to subscribe for 100% of Shenzhen Weiwei Technology Co., Ltd. with RMB 100 million from its own funds and bank loans. After the completion of this equity transfer, Weiwei Technology will become a wholly-owned subsidiary of Zhouming Technology. On October 10, Zhouming Technology released the news of the acquisition of part of the equity of Hangzhou Bai Nian Intelligent Optoelectronics Co., Ltd. in cash and increased its capital. It plans to subscribe for 30.49 million shares of Hangzhou Bainian for RMB 0.5 billion. Among them, RMB 30.49 million was included in the registered capital of Hangzhou Bai Nian, and the remaining RMB 19.51 million was included in the capital reserve of Hangzhou Bai Nian as a capital premium. After the transaction was completed, the registered capital of Hangzhou Bai Nian was changed from RMB 143.82 million to RMB 17,431. Ten thousand yuan, became a subsidiary of Chau Ming Technology Holdings. On September 5, Zhou Ming Technology stated that it intends to acquire 100% equity of Hangzhou Xihe Optoelectronics Co., Ltd. for RMB 25 million with its own funds and bank loans. Upon completion of the equity transfer, Xihe Optoelectronics will become a wholly-owned subsidiary of Chau Ming Technology. On July 27, Zhouming Technology and Aiga Lighting signed an agreement. Zhouming Technology intends to acquire 49% of Aijia Lighting's equity at RMB0.4 billion with its own funds and bank loans, and intends to use its own funds to love. Plus lighting increased capital of 20 million yuan. After the completion of the equity transfer and capital increase, Chau Ming Technology will hold a 60% stake in Aiga Lighting and become the controlling shareholder of Aiga Lighting, which will become a holding subsidiary of Chau Ming Technology. Comments: Chau Ming Technology has aggressively acquired LED companies, and the M&A companies are mainly engaged in LED lighting and LED display related business, which is very compatible with the main business of Chau Ming Technology. It can be seen that the frequent mergers and acquisitions of Zhouming Technology are still horizontally expanding around the main business. Chau Ming Technology acquired the LED lighting enterprise with the aim of developing in the field of urban landscape lighting and high-end lighting to occupy the high-end market of LED lighting. The main purpose of acquiring Weiwei Technology and Hangzhou Bainian is to further expand the LED display market segment. Rose Technology is mainly engaged in LED transparent screen business. It has formed a brand in the existing LED transparent screen market, and has created many LED transparent screen projects. It is a professional manufacturer of LED transparent screens. Hangzhou Bai Nian focuses on the display signage business, and the customer base covers a wide range. Zhouming Technology has acquired Rose Technology and Hangzhou Bai Nian, and will have greater development in the field of transparent screen and signage screen. Hongli Zhihui Double Main Business On September 26, Hongli Zhihui plans to acquire a 56% stake in Yishan Auto Lamp held by Zebo Partners with self-raised funds of RMB 21,963 million. After the completion of the transaction, the company holds Yishan 56% of the lights. On May 2, Honglizhihui plans to acquire a 51% stake in Danyang Yishan Auto Lamp Manufacturing Co., Ltd. for 230 million yuan. The company is engaged in the LED automotive lighting industry, with a total commitment of 218 million yuan in the next four years. Comments: Faced with the intense competition in LED prices, the mainland automotive LED market has become a battleground for military strategists. Many lighting companies have begun to choose to cooperate with manufacturers of automobile lamps and automobiles, and the automotive LED market has added a fierce fire. As a leading LED packaging company in China, Hongli Zhihui also seeks excellent cooperation in the field of vehicle networking industry through mergers and acquisitions, equity participation, etc., and cuts into the development of domestic LED vehicle lighting supply market for passenger cars, thereby promoting the company's dual owners. The realization of the overall strategic goals of the industry. The acquisition of Zebo Partners and Yishan Auto Lamps will help accelerate the layout of the company's vehicle supply system in related fields. On March 5th, Mu Linsen International announced that the listed company, Mulinsen, announced that the company's investment in the partnership, the company's subsidiary, Mingxin Optoelectronics, and the original shareholder of OSV GmbH, LEDVANCE LLC, and OSRAM SYLVANIA INC., the original shareholder of LEDVANCE LLC, completed the transaction. The equity is delivered. At this point, Mingxin Optoelectronics holds a 100% stake in LEDVANCE and has successfully completed this overseas equity acquisition transaction. Comments: Mulinsen as the packaging leader, LED industry chain layout has been from Mucheng Forest, the acquisition of the world's first-class brand, sales channels and advanced technology landing in China, is expected to promote industrial technology structure, systemic change, the future to create a global LED Integrated aircraft carrier. As the company's packaging business continues to strengthen its strengths, Mulinsen's products will continue to be high-end, branded and international. Huacan Optoelectronics Double Main Business On December 11, Huacan Optoelectronics issued an announcement to issue shares to purchase assets and raise matching funds, and explained some matters concerning the resumption of acquisition of Harmony. The purchase price was changed to 187 million yuan. For Huacan Optoelectronics, the acquisition is full of twists and turns. Since the suspension in April last year, the acquisition has been planned for more than a year, and it was announced in early August. This is a relatively complicated merger design, the standard bridge of the company's harmonious photoelectric system, the ultimate listed company's target asset is 100% equity of MEMSIC. Comments: In 2017, LED chip market demand continues to grow, Huacan Optoelectronics production and sales will steadily increase, thus further consolidating the company's dominant position in the market. Under the premise that the status of LED chips continues to be stable, Huacan Optoelectronics will acquire the new main industry of LED and sensor. In addition, Huacan Optoelectronics will continue to bring overseas advanced technologies and enterprises into the domestic market and promote international cooperation and overseas mergers and acquisitions by leveraging the resources integration advantages of IDG Capital. Lu Yitong cross-border layout On July 11, Lu Yitong plans to issue shares and pay cash, totaling 2 billion yuan to acquire 100% equity of Guangdong Shenghui Electronics Holdings Co., Ltd. Shenghui Electronics is engaged in R&D, production and sales of electrical complete sets of equipment and LED lighting products. The 2016 annual revenue is 913 million yuan, and the total performance commitment for the next three years is not less than 655 million yuan. Comments: After the termination of the acquisition of Bitcoin chip maker Jia Nan Zhizhi, Lu Yitong entered the field of LED lighting and smart home through the acquisition of Guangdong Shenghui Electronics, and from the field of electrical equipment to the development of lighting, smart city and other industries to achieve Diversification of business. Global distribution of Feile Audio On November 30, 2017, Feile Audio completed the acquisition of a 20% stake in Feilo Malta Limited and a 100% stake in Havells Sylvania (Thailand) Limited. Upon completion of the delivery, the company holds 100% of the shares of Feilo Malta Limited and 100% of the Thai company. Comments: After the completion of the acquisition of the remaining 20% ​​equity of FML, it will help to improve the competitiveness and brand influence of Feile Audio in the global lighting market, further expand the market share of Feile Audio in the global market, and effectively improve business performance. This acquisition is also seen as an important step in the internationalization strategy of Feile Audio. Feile Audio acquired and acquired the famous brand of Xiwannian through capital means to realize sales in most countries in the world. In this channel cooperation, it gradually established its own overseas factories and R&D bases to realize global layout. . Liard expands business On March 2, Liard announced that the company intends to acquire Xinyu High-tech Zone Junchen Investment Management Partnership (Limited Partnership) and Xinyu High-tech Zone Junling Investment Management Center (limited) in cash of RMB 248 million. The partnership is a 100% equity interest in Hunan Junze Lighting Design Engineering Co., Ltd. On February 14, Liard's wholly-owned subsidiary, Liard (Hong Kong) Co., Ltd. and LED chip materials company SAPHLUX, INC. signed the "Equity Subscription Agreement", Liard Hong Kong invested 3.5 million US dollars (equivalent to about 2403) 10,000 yuan) subscribed for 1,501,220 AA-rated preferred shares of SAPHLUX, accounting for 14% of SAPHLUX's total share capital. Comments: Liard's VR/AR and smart devices have a large demand for portable and efficient laser projection, while SAPHLUX mainly produces semi-polar gallium nitride crystals for semiconductor lasers. Liard accelerates the layout material market through shareholding and forms a synergy with existing virtual reality strategic investments. As the bridgehead for the Liad Group's business in Central China, Junze Lighting can significantly increase the market share of Liard's lighting engineering business in Central China, which will help enhance the overall competitiveness of the business segment and further enhance Lia's competitiveness. The revenue scale and net profit level of the German lighting business segment. Wanrun Technology's dual main business On September 1, Wanrun Technology announced that it plans to acquire 100% equity of Xinli Media at a price of 765 million yuan to further expand the proportion of advertising media business. Comments: Since 2014, the company has successively included the above-mentioned Sunshine Optoelectronics, Auman Technology, Dingsheng Yixuan, Yiwan Wireless, Botu Advertising, and Vientiane. Together with the Xinli Media, it cost a total of 2.514 billion yuan. Acquired 7 assets, including LED lighting, Internet software application and promotion, Internet marketing and case-wide services, mobile Internet advertising, Internet search engine advertising and other fields. In addition to the above-mentioned mergers and acquisitions, the latter five are cross-border mergers and acquisitions. It can be seen that Wanrun Technology has realized the transformation through mergers and acquisitions, and built key points and misplaced layouts of the entire industry chain of Internet advertising media, integrating upstream creative planning, mid-stream data mining and technology platform, and downstream media resources, to create an Internet advertising media ecology. Circle to achieve the strategic layout of the dual main business. Snow Wright cross-border layout On September 14, Snow Wright acquired 100% equity of Shenzhen Zhuoyu Automation Technology Co., Ltd. for 300 million yuan, laid out the field of lithium battery production equipment, and further extended the new energy automobile industry chain. On January 4, the Snow Wright Industry Fund and the Guangzhou Mingchu Investment Management Partnership signed a "Share Transfer Agreement", stipulating that the former will be transferred by the latter with the self-owned funds of RMB 15,051,000. The company has 277,000 shares, accounting for 2.31% of the shares of Mingshi Education. Comments: Since 2015, Shelley, which has always relied on endogenous growth, has also begun to take the M&A route. In addition to cross-border education, in addition to cross-border education, Snow Wright plans to acquire UAVs, charging piles, smart packaging, optical technology applications, smart consumer electronics, high-end intelligent manufacturing and automotive core components. And many other fields. The acquisition of Zhuoyu Automation is a further extension of the company's new energy vehicle business, which is conducive to the company's new energy vehicle strategy. Summary: In 2017, the LED industry as a whole is improving. Under the wave of industrial upgrading, major LED companies have frequently operated. After the series acquisition, the LED industry will also usher in a more comprehensive industry competitor. On the other hand, with the deepening of corporate mergers and acquisitions and the collapse of the LED industry, the LED industry has been shuffled, and many companies are inundated with the wave of industrial development, which is the inevitable result of the survival of the fittest in the competition. After many rounds of industry shuffling, the LED industry will achieve further optimization and upgrade. Xiao Bian seems that the LED industry shuffling is a normal development trend, and any industry will undergo a process of barbaric growth and optimization and upgrading. Merger and reorganization will be a normal state, and it will be a wise man to retreat.
Big size carbon steel Plasma Cutter Machine
1) High precision CNC Plasma Cutting Machine is widely used in cutting letters and drawings of industries manufacturing and advertising filed.
2) Reliable driving system which requires no maintenance. Rigid welded metal structure, high precision gantry, X Y Z axis use Taiwan HIWIN square rail guide and high precision rack gear driving system to ensure the rapid working speed and high accuracy.
3) Clean and smooth cutting edge, do not need further processing.
4) Wholly cold-roll machine structure, this increase rigidity and eliminates vibration during working.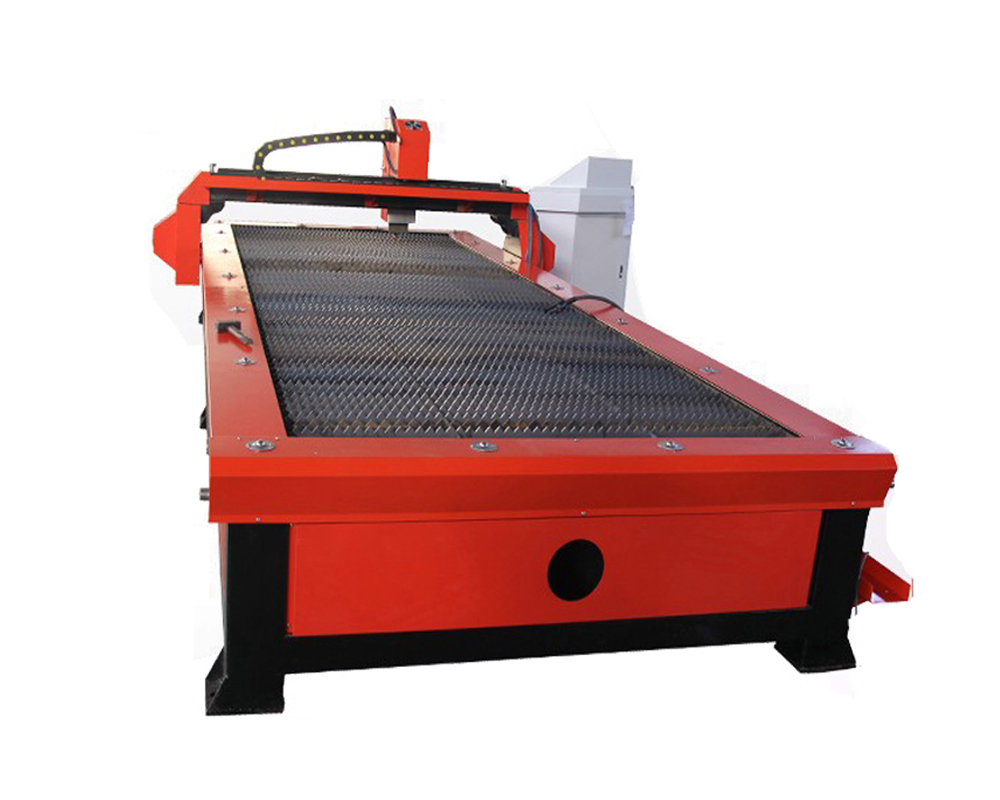 Big Size Plasma Cutting Machine
CNC Plasma Cutter Machine,Plasma Metal Cutter,Industrial Plasma Cutter,Big Size Plasma Cutting Machine
Jinan Vmade CNC Machine Co.,Ltd , https://www.vmadecnc.com